Comparative Test of Internet Radio Stations with Lossless Stream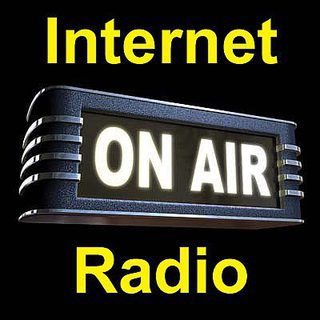 Internet radio is no surprise today. Thousands of channels, if not millions, are drowning something of their own. And now the task is to catch something really worthwhile in this mosquito chorus, both in terms of content and the correct audio quality.
Who is louder?
In vain, many people think that the matter is only in bitrate. Although few indicate the bitrate, and even lower it without our knowledge. Many broadcasters also did not care about the recommendations of the Audio Engineering Society, which stipulates the maximum volume level of the stream stream.
What do we end up with? At first, the backing track was brutally compressed by modern mastering in the style of Loudness War. Then this song is also transmitted with an off-scale volume level, re-clipping an already tortured signal. An example would be a sample stream of a Deezer service captured digitally on the fly.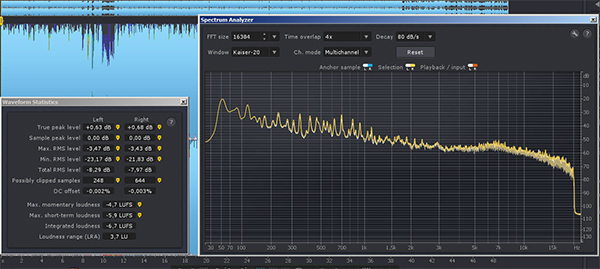 Deezer radio service misuses loudness, resulting in DAC distortion
As you can see, despite the rather high bitrate, the volume regularly pokes at 0 dB and causes a lot of clipping-related distortions. Although they say, Spotify has taken up its mind.
Therefore, considering the new station, we will pay attention to the dynamic moment as well. The primary important selection criterion will be the Lossless audio stream. It should not undergo lossy encoder processing, even if it is good quality AAC or 320 kbps. Therefore, Linn Radio and others like it – sorry, today we are not talking about you!
Love, money and 24 bit
Currently, a number of audiophile services, for example – Tidal, provide access to Hi-Res audio as part of a subscription. But paying for this service is not so easy until the very same Tidal does not officially work here. We need workarounds, which we'll talk about some other time. Let's focus on online radio stations that broadcast without restrictions in every sense.
Most of the Lossless radio uses a 16-bit 44 kHz signal. Well, quite reasonable. Most of the albums are still available in the good old Red Book, and the difference between 16- and 24-bit audio presentation is not so critical compared to the degradation of audio on lossy codecs. In general, you understand me: on a 16/44 stream, the data density is about megabits per second, and there is no reason to increase the traffic by one and a half times.
How to listen
The resources with the lossless stream, which we managed to find, are in no hurry to announce the coveted link on the main page. Why overload the server if "everyone is listening to mp3"? Most likely, you will find on it an interface player with a regular lossy stream, which can automatically reduce the bitrate if the system decides that the transmission channel is too narrow. The links to the flac stream we need can usually be found on the specialized forums dedicated to this task. The received address should be entered into your own software player with support for http-broadcasting – the same foobar2000 or VLC.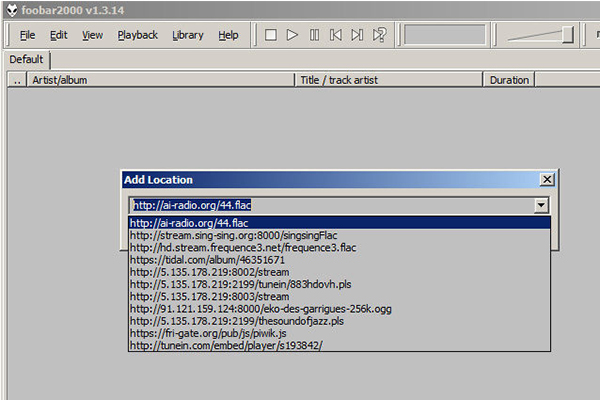 Uploading the web address of an internet radio station for streaming via Foobar2000
VLC, by the way, opens up a ton of functionality on portable devices. This is what I will use on my iPhone and iPad. The audio stream for analysis can be captured digitally through the optical output of the docking station, or simply save the stream through Foobar2000 into a separate wav file, which is then viewed in an audio editor.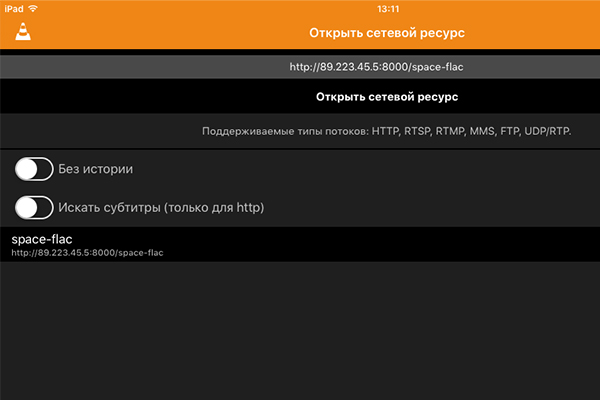 Streaming internet radio on a portable device can be configured via the universal VLC player
Soviet means excellent
Surprisingly, when it comes to lossless streaming, all audiophile genres are blown away by the wind. I have not been able to find a single resource with classical music. Old links led to a single Czech site, but only lossy has been broadcast there for a long time. But the lovers of electronic music turned out to be conscientious radio listeners. Domestic Internet radio "Sector" offers as many as two FLAC-streams – Progressive and Space. However, the designation "electronic music" is rather arbitrary here. In addition to house or trance, ethno, minimal acoustics and chill-out sounds. This is a normal musical urban format. As the graphs of the captured stream show, everything goes without deception and loss of quality. But in terms of volume on both streams, there is still an overlap of more than 1 dB. So clipping is possible on percussion rhythms.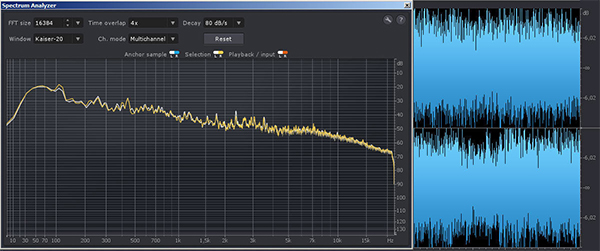 Radio "Sector" – honest lossless spectrum, but with the volume of the stream there is too much
Links for the web player: Sector Space http://89.223.45.5:8000/space-flac, Sector Progressive http://89.223.45.5:8000/progressive-flac
Another local resource, Radio Nina, seems to be operated by one person and is probably a pirate stream. The repertoire is standard mainstream from Doors to Pink. You can listen to the Lossless stream only after registration. It is not difficult to close it up itself, but there is a nuance. Everything will work on Foobar2000, but not on a portable device. In any case, my music on VLC did not start, despite the fact that I logged into the site again. The spectrum of Radio Nina is in perfect order, but no one watches the volume either, and if the track is loud, its peaks will inevitably creep out into clipping.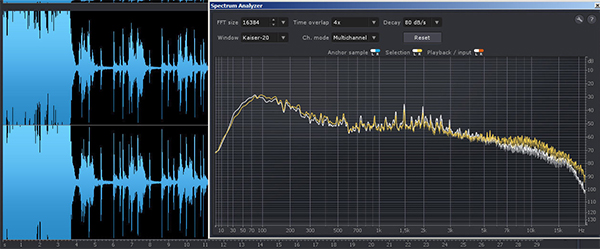 Radio "Nina" is also fair with the spectrum, but the overshoots with loudness are even more indecent
Link for web player: http://radionina.ru/streamflac/
Rarities and deception
In the thematic sections of Internet radio, it is always interesting to poke at random (like Senegal / Religious) and fall into another universe. Unfortunately, Senegal doesn't care much about lossless radio. However, they do not really care about him in the more prosperous regions of the planet. The number of detected lossless radio stations can be counted on the fingers. It is useless to search for free FLAC radio in the USA or Japan, but in Europe it is still found a little.
One of them is JB Radio2. Along with modern music, the station broadcasts a lot of old-school content, while, fortunately, does not abuse the hits of Soviet music lovers. In the playlist, Sade sits next to Bob Dylan and Fleetwood Mac. In general, different names come up, including those that were in our shadows, it is especially interesting to listen to them.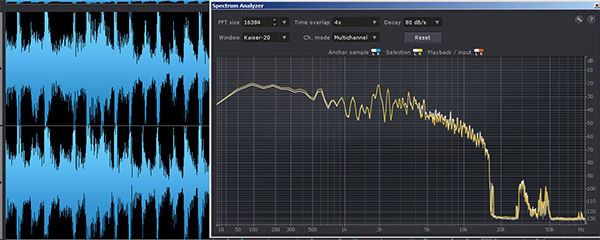 JB Radio streams regular lossy stream through 192 kHz upsampler
And it was all the more offensive to find out that the source of the JB Radio 2 broadcast were lossy files. The frequency is cut at 16 kHz, what bit rate was there – guess for yourself. But the height of insanity was that this goodness is transmitted in a container with a discreteness of 192 kHz, which greatly loads the channel up to more than two megabits per second! That is, an artificially inflated 16-bit / 192 kHz audio stream comes in, inside which a banal mp3 is contained. For comparison, I swung the broadcast by 320 kbs, you can compare the quality and you – no difference, except for the channel width. The Greek admin declined to comment on this situation. The only consolation is the thought that on radio stations the vast majority of music is converted to mp3, and in this case the phonogram simply avoided the fate of being converted into a lossy stream again.
Link for web player: http://209.126.66.166:10999/flac.m3u
French Kiss
The French radio station L'Eko has a completely physical broadcasting frequency of 88.5 MHz in its homeland. There seems to be no exotic in the repertoire: mainstream pop-rock and hip-hop, but not a single familiar name. Quality analysis showed, alas, that there was a lossy codec in the source. The only difference is that it appears to have been using AAC with softer filtering. And the volume is ok with no overdrive. Maybe they read the Mastered for iTunes article?
Link for web player: http://91.121.159.124:8000/eko-des-garrigues-max.flac

L'Eko lies about the lossless stream, but it doesn't bother with the volume
Another Frenchman is Frequence3. And here, too, the frequency is cut off, but every other time. There is a normal track, and then it is already cut, although quite high – at 20 kHz. The volume prudently stops at -1.5 dB. And although we do not actually have clipping in our measurements, it is likely that the audio stream was passed through its own dynamic compressor. The music is mostly faceless Euro-pop.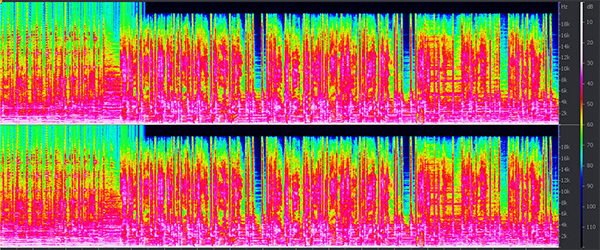 Frequence3 radio broadcasts both lossless and lossy sources
Link for web player: http://hd.stream.frequence3.net/frequence3.flac
The French trio is completed by Sing Sing, which seems to be more focused on traditional rock content, albeit again with regional preferences. In terms of spectrum and loudness, everything is in order, but the music will probably be of interest only to Francophone.

Sing Sing is doing fine except for the repertoire
Link for web player: http://stream.sing-sing.org:8000/singsingFlac
Quality grows north of Germany
And here's 440Hz Radio. It's funny, but the sampling frequency here is not 44 kHz, but 48 kHz. Mouzon is about as diverse as L'Eko's, but the emphasis is on German vocalists: Die Toten Hosen and so on. Listen to anyone interested. As for the length of the spectrum and loudness, there are no problems with this broadcast. But 48 kHz of the audio stream indicates that there is still a resampling of the original, which is 44 kHz for the CD. And from the point of view of audiophilia, this procedure is not so harmless.

Radio "440Hz" transmit lossless audio stream, but with 48 kHz sampling rate
Link for web player: http://pop-radio.eu:8080/pop.flac.ogg
Although the site of the Ai-Radio service from the Netherlands looks like an amateur stylized DOS interface, you can easily choose the desired bitrate on it, no one is hiding anything. The music is selected mainly from the soundtracks for video games, that is, any: an old soundtrack of the classics can follow an abstract electronic collage. I just wanted to say about honest quality – no unnecessary encoders and compressors, when I suddenly stumbled upon a track with clear signs of mp3 origin. Okay, let's write it off for an isolated case. To be fair, it should be said that even on CD compilations this happens all the time.
Link for web player: http://ai-radio.org/44.flac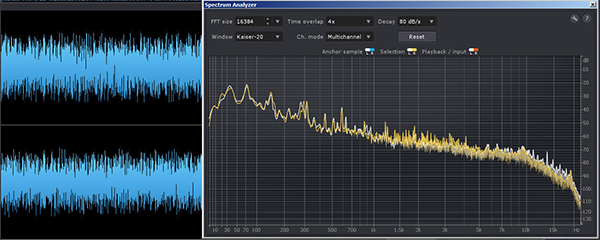 Ai Radio in general works honestly with both volume and spectrum
The Norwegian resource Kyber.io, judging by the manga design, specializes in Japanese music. Maybe for some other, but at least not a single performer could be calculated. The musical selection is quite curious: easy-listening of varying degrees of freakiness. The audio stream seems to be without mpeg filtering artifacts. Anyway, audiochecker didn't recognize anything criminal. And the volume does not go beyond the red line. Perhaps, it is this channel that will have to present the winner's medal, since the main contender JB Radio 2 has been disqualified for a deliberate violation of doping control.
Link for web player: http://r.kyber.io/flac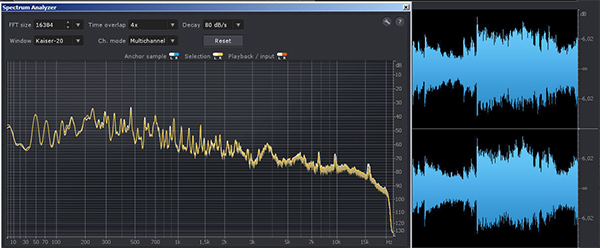 It's a sin to complain about the technical characteristics of the Kyber.io resource, and the music is not trivial
---
Based on materials from "Stereo & Video" magazine, June 2017. www.stereo.ru
This article was read 19,621 times